Yoga Burn
(also known as "
Her Yoga Secrets
") is a 12-week yoga program for women created by Zoe Bray Cotton.
It uses a technique called Dynamic Sequencing to burn calories and fat, promoting healthy weight loss.
Price starts from $37. The Official Site is the ONLY retailer of this program which provides the 60-day money-back guarantee. The link above allows you to qualify for all current and future bonuses.
Beware of fraudulent discount links. There is no promotion for Yoga Burn (and there never was in the past).
Who is Zoe Bray-Cotton?
Zoe Bray Cotton is a certified yoga instructor, personal trainer, and female body transformation expert.
She has experience teaching yoga for relaxation purposes and working one-on-one as a personal trainer to help people tone their bodies and lose weight.
In Yoga Burn, Zoe combines these two goals by providing a yoga program that reduces stress and tones the female body.
Program Benefits

Zoe Bray Cotton argues that her program is unique because:
 Yoga Burn tailors to individual needs. Zoe explains that generic classes do not tailor for individual physical capabilities and goals. These classes will not work for everyone in the class.
 Yoga Burn will lower stress levels and produce relaxation, unlike other programs. Zoe explains that attending conventional yoga classes raises the levels of cortisol (the "stress hormone"), which causes the body to store more fat.
With Yoga Burn, your routine will change according to your abilities as you advance through the program. Zoe explains that, in order to achieve results, you should be doing yoga poses and routines that are specific to your goals. This led to the development of Dynamic Sequencing.
What is Dynamic Sequencing?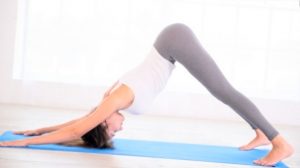 Dynamic Sequencing is a unique yoga approach which will help you learn the exact and correct poses, duration, and sequence that will help you progress from beginning to end.
It will push you enough to prevent workout plateau and build a better feminine shape.
Zoe Bray Cotton divided the Yoga Burn system for women into 3 phases, with instructional videos to help you master the poses and sequences that will maximize the benefits of yoga.
Sample Poses

Here is a clip of Zoe Bray-Cotton teaching the Wide-Legged Forward Fold pose:
Here are some screenshots of the steps for the Dancer Balance Pose:
Here is a new video of Zoe's yoga instruction outdoors added in 2017:

The Three Phases of The Yoga Burn System for Women
Phase 1: The Foundational Flow Phase
This phase will help beginners understand the foundations of yoga, improving safety and efficacy. You will also build a strong mind-body link that will help you in later phases, and learn strategic poses to boost your metabolism.
Phase 2: The Transitional Flow Phase
In this phase, you'll merge the poses in the first and second phases to create sequences, thereby enhancing your mood and eliminating problem areas.
Phase 3: The Mastery Flow Phase
Here, you'll combine everything you learned in the first and second phases. The sequence in this phase will boost your metabolism and create feminine tone in your body.
There are two additional bonuses offered with the Yoga Burn System:
Bonus 1: Follow-along audio classes
Bonus 2: The Tranquility Flow
What is the Yoga Burn Setup?
There are 3 workouts in each of the 3 phases. This gives 9 videos (plus bonuses). Each workout is 15 minutes long but plays on loop 3 times for a total of 45 minutes. Each phase should last 4 weeks. You should aim to complete all 3 workouts once every week, along with the Tranquility Flow bonus. This gives a total of 4 days per week of yoga.
For example, an ideal week should look like this:
Monday: Workout 1
Tuesday: Walk outside
Wednesday: Workout 2
Thursday: Do nothing!
Friday: Workout 3
Saturday: Walk outside
Sunday: Tranquility Flow
Once you repeat this schedule 4 times in phase 1 (for a total of 4 weeks), you can move on to phase 2 with a similar outline.
Now that we have covered the general overview of the Yoga Burn System, let's look at the pros and cons of the program.
Customer Reviews
Feel free to leave a review for The Yoga Burn System (a.k.a. Her Yoga Secrets) here. Please use proper grammar to maintain the integrity of the page.
Click here to submit your review.
---
---
TBC
Apr 29, 2020
by
Rita perron
I bought all the programs. I recommended it to my patients and many have bought it too. I joined the yoga group but as soon as I did, I saw some posted facts about their supplements. I saw that the supplements they sell have sucralose, dyes and metylcellulose. As a health care professional, I believe that we should educate ourselves in what we ingest into our bodies. I like the yoga program but can't comment on their supplements. Please do your research before investing in products that are not good for your health, such as artificial sugars which can actually cause diabetes and weight gain.

---
Great
Feb 26, 2020
by
Maria Medina
I love yoga but I am new to yoga and can't do some of the moves.

---
Poor Quality
Sep 16, 2019
by
Carolyn Coats
First of all, the quality of the video is very poor. Secondly, the instructor goes very fast and if I had not been doing Yoga for a while, I would not have any clue how to do any of the movements. She does not explain anything. The whole process is a little confusing with no explanation in the introduction on how to follow the program. I am a bit disappointed and would not recommend for someone that has no yoga experience.

---
Yoga burn
Sep 09, 2019
by
Rachel Shiflett
I agree with others she moves too fast for beginners. I get that speed is key to this workout but maybe an introduction "how to" in the beginning would be helpful. Just have to watch a few times then start. Also I'm confused where is the tranquility flow? I just got 1 DVD case with phase 1-3 & then final.

I'm giving 4 stars because once you figure out what to do its a good workout and I feel the burn!

---
Disappointed
I was very disappointed with the work outs... this is barely yoga and if you are not watching the screen the entire time, Zoe is almost done with the next move by the time she gives you instructions. Also, instructions are not always clear. I conveyed this in a comment on the YogaBurn Facebook page and instead of reaching out to a dissatisfied customer, my comment was deleted and I was blocked from being able to comment at all. It is definitely not worth $37 plus $10 shipping. I requested a refund.

---
Yoga Burn
rated

3.5

/5 based on

47

reviews.
What We Love About Yoga Burn
Suits women of all fitness levels. The poses are arranged in order from the easiest to hardest in order to avoid injuries or discomfort. There are suggestions with each workout on how to make a certain pose easier or more difficult, depending on your fitness level and capabilities.
Easy to follow. You will find that the instructions are so clear that you do not have to keep looking at the screen and can easily follow the steps.
Focuses on results. The Yoga Burn System provides opportunities to progress, as the sequences change as you continue with the program. This avoids the workout plateau and will undoubtedly show results as you keep pushing your body with each workout.
Convenient. You will not have to pay for yoga classes and transportation costs. There is a one-time fee to receive all the perks. Furthermore, the workout can be done in the comfort of your own home without special equipment.
2 Months of Full Money Back Guarantee. If you don't like the program for any reason, you can request a full refund within 2 months. It's completely risk-free.
What We Don't Like About Yoga Burn
Results Vary Among Individuals. Like with any new exercise routine, results will vary from person to person. Although the workout will be beneficial for all who try it, it may take longer for some people to see results compared to others.
May Be Too Easy For Some. For people who are used to high-intensity exercises and advanced yoga, this program may not be challenging enough.
Digital Edition Only. The program is offered through videos that are available for your use as soon as you purchase. For those who are not very motivated unless they are in a live class, this may be a disadvantage.
Conclusion
We believe that The Yoga Burn System is a great program for women who are looking for low-moderate intensity exercise to shape and tone their body and lose weight. The best decision about whether this is the right program for you can only be made by one person – YOU! Since it is a risk-free purchase, we suggest trying it for a few weeks and seeing how you feel.
How To Purchase

To purchase the Yoga Burn program and qualify for the 60-day money-back guarantee, visit YogaBurnChallenge.com.
The cost is from $37 to $57 plus shipping, depending on the package you purchase.
By purchasing through the link above, you will also qualify to receive all future bonuses added to the program as they are released. Beware of fraudulent links and do not give your credit card information to an unknown seller.
This program cannot be purchased through Amazon. Do not confuse this with the Rodney Yee program. The program is available as a physical collection on DVD and for download in digital format directly from their website after logging in. Unfortunately, there is no option to save on shipping by purchasing the downloadable copy only (without the DVDs) – both forms come in a package.
Discount
Yoga Burn does not release any discount coupons or codes.
The price has been set at the release of the program. Although the price stays the same, Zoe continues to add value to the program with new bonuses.
By purchasing through the official site above, you automatically qualify for all future bonuses added by Zoe, and you will receive them at no additional cost when they are released.
Package Options
What is the difference between the Yoga Burn Digital plus Physical package (priced at $37) and Digital plus Physical X2 package (priced at $57)? It's simple. With the X2 option, you get 2 copies of the same program. Find a friend who is interested in trying Yoga Burn and you could both save!
More Reviews
---
First Week
So I have just finished the first 15 minutes of week 1 and although Zoe says it is for beginners, she goes mighty fast. The poses are great however, for a beginner I feel that she needs to slow the poses and the instructions down.

---
Love it!!!
Dec 23, 2018
by
Wendy Manti
I am now going into my 4th week in phase one. I am completely addicted. First week was rough. I have never done yoga before. I was beyond sore but each week I got better and stronger. I can see the difference in my body already, which has given me much incentive to keep going.

---
Under review
Okay I'm only in week 1 of yoga burn. I want to say the number one complaint I have this far is that they advertise that beginners can do this with ease. That is absolutely not true. However with that being said, if you learn to modify some of the positions and use yoga blocks you'll be okay. I highly recommend you watch the routine first - that way you can anticipate and know what to do as Zoe is not good at explaining for beginners to understand. I am going to give it the benefit of the doubt and keep doing it for the next 4 weeks. I will give another review then.

---
Just purchased
I did the very first video in the program and loved it! You do need to have somewhat of an idea on yoga poses in order to follow along. I would suggest learning some of the basic moves to get the best workout from the videos. I am excited to share my results!

---
Burning Hot!!!
I'm now in last flow and have 3 weeks left to go. I'm already getting motivated to purchase the 6 month programme after I completed the 12 weeks.

My personal trainer is amazed how strong I am in my core and I'm so thrilled as well. I have always had a very poor core (especially lower body) and I can now do the bicycle without having a break.

The side planks are challenging and find I'm becoming more sore around the elbows so need to start listening to my body and adapt it to doing it on my knee to take pressure of elbows or better yet get a mirror installed in my home gym to ensure I'm doing it correctly.

I find its definitely not for beginners, I have never come across yoga which is this fast paced and always look forward to do my tranquility flow... You sure work up a sweat and very proud I have made it to level 3.....

Have not worked out how I take the audio files on ipod or phone and will have to find out from my kids how to do this. Would be awesome to do it outside in nature. Definitely on my bucket list.

Keep on burning ladies and gents!!!!

---
My Results!
Mar 01, 2018
by
Julianne Kertz
I have been doing the Yoga Burn workouts for 4 weeks now. My height is 168 cm. I started from a weight of 132 lbs and now I am at 122 lbs. The progress is slow but quite obvious. I feel better and more energized from day 1!

---
A good yoga program
If you're like me and just looking for a low-moderate intensity workout you can do from home every day to stay fit, I think you will like this. I didn't find anything unusual or unique about it, though. It's like a good traditional yoga class.

---
Yoga Burn Review
I'm only in week one. While I find it a great idea, I'll have to wait until further in the program to say whether or not it works. My major complaint is that they claim that beginners can use this program with ease. This is not entirely true: Zoe does not explain the positions thoroughly enough for a beginner and the positions are definitely not beginner level. With that being said, using common sense of knowing your abilities and utilizing yoga blocks, you will be able to follow along with her without too much of a problem. I recommend you watch the first 15 minutes of each workout before starting. This way, you know the positions that are coming and then you won't feel lost. I will come back and give another review in about a month.

---
Don't use if you are very overweight
This is a very difficult program. I have done yoga before and this was far more strenuous than anything I've done. You cannot do this routine if you are out of shape. She makes no modifications for us larger gals and just expects you to keep up. To make matters worse, I tried to return it and get my money back. I never even opened the DVDs and marked them return to sender and sent them back, immediately upon receipt. They claim that in the past month since I sent them back that they haven't been received and they won't refund my money as promised.in the advertisement. I am now going to the BBB & Attorney General fur them to help me since they won't. This is a scam. Unless you are already in shape, it will be worthless to you.

---
Fun yoga
I'm on week 2 right now and this workout is quite fun! I can't comment yet on weight loss progress since I just started but it's definitely making all my muscles sore and my flexibility is improving. I'm learning to really enjoy yoga. It helps clear my mind.

I like Zoe's narrations. She doesn't speak too much or too little - just right. Overall, 5 stars!

---
Bummed
I love yoga - and love doing it at home rather than in a class. I looked so forward to starting Yoga Burn......only to find out the DVDs are not compatible with my Mac Laptop! All my other DVDs work fine in my laptop - but these don't!!! I am so bummed.

---
Fantastic
I'm glad I found this program. I can't seem to commit to a regular yoga class because of a busy schedule, but I've always tried to keep doing it in one way or another. Thanks to Yoga Burn, I can do it from home, and I've been strict with myself for several months now.

I think the program is great and delivers what it promises. I've really enjoyed it and would recommend it to my friends.

---
Boring
I decided to try it after all the great reviews, but I'm disappointed. The routines are boring, even for the first few days. I can't imagine going through with it for several weeks. I returned it for refund.

---
It's good
The program and routines are good. I feel like overall the exercises hit all of the important muscle groups, help boost energy level, and promote weight loss.
One negative that I have to mention is that I find Zoe's voice somewhat annoying. If you get used to it I guess it shouldn't affect the workout.

---
Intensity is not there
I like the program, but I find that it is too easy for me. This program is fantastic for beginners or for those who want a low-intensity workout. If you have a background in professional sports like me, you might want to look for something more challenging.

---
Best home workout
Yoga Burn is a great workout program. I love that I can do it from home. I also love that there are new videos every few weeks to keep it fresh and exciting.

Yoga Burn is far from easy. I sweat through the entire workout and I feel sore the next day, even though I've been doing it for a few weeks now. I love it because it just means that I'm working on my muscles well.

---
Great as part of your weight loss plan
This program is fantastic if you combine it with a healthy diet and some routine cardio exercise. I've noticed improved flexibility and muscle definition after only 1 month of Yoga Burn. However, I do not believe that this program alone would bring me to my goals - your body is a lot more complicated than that and you need to work harder by changing your entire lifestyle.

---
highly recommend this
Zoe is a fantastic teacher. I find it quite easy to follow her instructions even without looking at the screen. She also keeps the mood relaxed which helps me get the most out of the workout.

I started this several months ago and I still do it several times per week. I wasn't aiming to lose weight, but I still notice that my body tone has improved, especially legs and abs.

Overall, it's definitely worth a try.

---
Not what I thought
When I ordered, I was sure I was going to get 12 different workout videos, 45 minutes each. Actually, what you get is 9 videos and they are 15 minutes each. You're expected to put them on loop 3 times to give the promised 45 minutes. I was really disappointed and angry.

I almost asked for a refund but then decided to try the workouts. Although I still feel like it would have been better with more options for videos to choose from, the materials supplied are quite good. I've decided to keep it...the 9 videos are still worth the money, I think. Just make sure you know what you're getting to avoid disappointment.

---
I can feel it burn calories and fat!
I liked this right from the start. I felt like I could control how challenging it was, and I was motivated to push myself to work harder.

In 2 months, I lost 5 inches around my waist, and I've never felt better! The fat is just melting away with Zoe's program. Thank you!

---
Yoga burn video is great!
I do the workout every other day. Time flies with Zoe Bray Cotton! I started seeing results 4 weeks into it, and I am not disappointed today at the 3 month mark. I feel stronger and more energized. I'm so glad I found this workout!

---
Burns calories, but wrist pain
I learned that yoga isn't for me. My wrists started hurting too quickly and I gave up after 10 minutes. I requested a refund.

---
Fake Return Policy
Aug 14, 2016
by
Lynn Johnson
Buyer beware. Do not heed the return policy. I have emailed customer support numerous times and can get no response. I also called the number they provide for customer support. This number is a standard recorded message that tells you to email them. You can't get a person nor leave a message. If you don't believe me, dial the number they provide to contact them and see for yourself prior to ordering.

---
I've tried many yoga programs and this is the best
I've tried many yoga programs including classes at my local gym, "Yoga with Adriene" and "Do Yoga With Me." Although I liked them all to some extent, Yoga Burn by Zoe Bray Cotton is my favorite.

I love how there are ways to tailor the poses and sequences specifically to my needs. When I feel like I want a challenge, I make it harder. When I feel lazier, I make it easier. Either way, I always look forward to working out.

---
Yoga is awesome
Aug 10, 2016
by
Charlotte Libidensky
Great program. I am noticing a gradual improvement in the tone of my body. I have finally reached my goal shape, and I'm not stopping there.

I love the bonus option with the audio follow-along yoga classes provided with the kit. I get to take the program out of my house and I feel like Zoe is right there with me working out!

---
I like the idea, but...
Aug 09, 2016
by
Elizabeth W.
When I got this program I was very excited to try it. However, I've been sticking to my schedule for a good 3 weeks already and I don't see any results. I'll be returning it for a refund.

---
It works! Thank you, Zoe!
Aug 08, 2016
by
Micheline Smith
I am so so so happy I found this program! I've been doing yoga through traditional classes for years, and although I enjoyed it, I stopped noticing progress. With the Yoga Burn System, I feel each pose contributing to my body tone! I am so excited to continue adapting the poses and sequences to my body. I am never switching back to regular yoga classes.

---
Officially available on: YogaBurnChallenge.com and on Facebook.