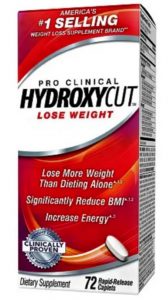 Hydroxycut products have been around for a long time now and promise to cause rapid weight loss without significant changes to lifestyle and daily routines. They have been available in a variety of forms including capsules, gummy candies, and drink mixes.
The Evidence
Robusta Coffee Extract
Robusta coffee extract contains high levels of an antioxidant called chlorogenic acid, which has been shown to promote weight loss. Click here to see a peer-reviewed publication summarizing the literature on chlorogenic acid — in summary, the compound has been shown to have antioxidant, anti-inflammatory, anti-lipidemic, anti-diabetic, and anti-hypertensive effects which promote the treatment and prevention of a variety of metabolic syndromes. Thus, Robusta coffee extract is noted to have a lot of potential for weight loss but large-scale studies in humans have not been published yet for definitive evidence.
According to the official Hydroxycut website, two studies were conducted to test the efficacy of the product in aiding weight loss.
Study 1 Conclusion: People who took Robusta coffee extract for 60 days lost 10.95 lb while those in the control group lost 5.40 lb. Both groups were in the same "low calorie" diet.
Study 2 Conclusion: People who took Robusta coffee extract for 8 weeks lost 3.7 lb while those in the control group lost 1.25 lb.
Although these studies suggest a significant difference between weight loss achievements in people taking Hydroxycut products and those trying to lose weight without the products, the studies are relatively small and have significant conflicts of interest because they were carried out by the manufacturing company. These studies have yet to be published and peer-reviewed, so we can't be sure they're very reliable at this time.
Caffeine
There is a slightly stronger basis for us to conclude that there is a link between caffeine and weight loss.
A recently published review (which you can find here) looked at all published randomized control trials — the best types of trials, if conducted properly. There was a total of 606 people over 13 studies that were included in this review. The authors found that over all the available evidence, there is a strong correlation between caffeine intake and weight. Furthermore, this link is dose-dependent, meaning that the more caffeine is taken in, the lower the body weight.
Customer Reviews
Here is the newest feedback on Hydroxycut. Please leave a review if you have tried this weight loss supplement.
Click here to submit your review.
---
---
Love the caffeine
Jun 07, 2020
by
Christopher
Gives me great energy boost for my workouts. Not sure yet about my weight loss but I like the effects so far.

---
Careful -- it has caffeine!
May 07, 2020
by
Jessica L.
I hate that this has caffeine. I don't respond well to it at all. Whenever I have a cup of coffee I start to feel jittery and anxious so I can't have it. I didn't do my research before buying Hydroxycut and didn't know this has caffeine as well. I don't recommend it for people who respond the same way that I do. I can't comment on whether it would work for weight loss.

---
It works!
I've been battling weight loss for my whole life and I can't say that this is a "miracle pill" but it has helped me quite a bit for the past 2 years that I've been taking it. I definitely still look at my diet and exercise routine but this is the only supplement I take. I feel that since I've started taking Hydroxycut (I take the original clinical pro version), I've been able to keep my weight off and also continue to lose about 2 lb per month. I would recommend it for my friends.

---
Meh
Jan 24, 2020
by
Jacob Miller
It didn't do anything for me. I didn't mind taking it and trying it out because of all the positive reviews I saw online and on reddit forums. I had high hopes but unfortunately didn't see any huge changes in my weight despite taking it for over a month now.

---
Hydroxycut Reviews – Weight Loss Results
rated

3.5

/5 based on

19

reviews.
What Else is in Hydroxycut?
Here is a list of ingredients of the 2018 formulation of Hydroxycut Pro Clinical:
Robusta coffee extract
Coffee extract
Apple cider vinegar
Plum
Baobab extract
Cardamom
Vitamin D
Vitamin B12
Vitamin B6
Niacin
Riboflavin
Thiamin
These ingredients are a combination of commonly recommended vitamins/supplements or spices/food products.
Safety
Hydroxycut products are manufactured by Lovate Health Sciences International, which claims to have extensive quality assurance procedures to ensure the safety of their products.
It is important to note that all dietary supplements, including Hydroxycut, do not need FDA approval to be sold. For all products on this market, the FDA usually only gets involved if there are concerns with safety of a product. Hydroxycut had two public safety concerns in the past:
In 2004, the product formulation contained ephedra, which was a very effective weight loss product that unfortunately was later linked to a risk of heart problems, strokes, and seizures. Hydroxycut was reformulated after these concerns came to light.
In 2009, there was another concern about Hydroxycut because of a link with some cases of liver failure, including one death. Again, the product was reformulated then.
Since 2009, there have been no safety concerns with the Hydroxycut products on the market and it is generally deemed to be safe since the reformulations. Furthermore, the ingredients of the current formulation seem to be in line with other popular multi-vitamins, with the addition of the key ingredients Robusta coffee extract and coffee extract.
However, the labels on the products say that it should not be used by anyone under the age of 18 and should be discontinued if you experience any reaction or unusual symptoms.
We also recommend that you speak to your doctor before you try Hydroxycut if you have been diagnosed with any other medical condition or take other medications.
Side Effects
The majority of users do not experience side effects from Hydroxycut products. Few users have reported the following side effects:
Headache
Nausea
Upset stomach
Anxiety
Increased heart rate
Difficult sleeping
How to Choose the Best Formulation
Hydroxycut products come in a variety of forms and it may be hard to choose which one is best for you. We provide a table with information regarding each formulation on the market today.
Formulation
Contains Caffeine?
Recommended for:
Additional Info / Other Ingredients
Original Capsules
Yes
Everyone
The most popular formulation
Gummies
Yes
Those who do not like to swallow pills
Sugar: may hinder weight loss progress

Vitamins
Drink Mix
Yes
Those looking for a weight loss sports drink
Electrolytes: help replenish your body's hydration if working out
Hardcore and Hardcore Elite
Yes
Athletes
L-theanine: improves alertness
Yohimbe extract: aids fat loss and blood circulation
Non-stimulant
Trace
Those who are looking for a caffeine-free version
B vitamins: boost energy
Hydroxycut Max
Yes
Women
Folic acid, biotin, collagen, argan oil, cysteine and methionine: support healthy skin, hair, and nails

Iron: prevents iron-deficiency anemia in women particularly if they have heavy menstrual periods
Note: All formulations contain the Robusta Coffee Extract. Formulations that do not contain caffeine may be less effective at weight loss as it may be an effective ingredient.
How to Take Hydroxcut
There are specific instructions on each product of Hydroxycut and the instructions may differ between the different formulations.
For the capsules, which are the most popular, users should start with one pill per day before breakfast or lunch for one week. The dose can then be increased to two pills per day, and then 4 pills per day.
You should not be taking more than two pills per 4-hours or more than 4 pills per day. Furthermore, do not take Hydroxycut within 5 hours of bedtime.
Can't I Just Drink More Coffee?
This is the question we asked ourselves when reading all about the magical effects of caffeine on weight loss. It would make sense that if caffeine is one of two key ingredients in Hydroxycut that stimulate the rapid weight loss, then drinking more coffee should do the trick too, right?
That's not a bad idea. Coffee has been shown to help promote weight loss by causing a slight increase in blood sugar that boosts energy — something particularly helpful before a workout — and also by decreasing appetite throughout the day.
However, be careful of over-consumption of caffeine. Each cup of coffee is approximately 100mg of caffeine (and each Hydroxycut pill contains this amount as well). The maximum recommended dose for healthy adults is 400mg per day. Signs of a caffeine overdose include:
Difficulty breathing
Confusion
Convulsions
Hallucinations
Increased thirst
Increased urination
So why are people choosing Hydroxycut instead of just increasing their coffee consumption? Our guess is that we don't know for sure yet if the Robusta coffee extract (which you can't get from regular coffee) actually contributes to the weight loss, but if it does, then drinking coffee alone may not be as effective as Hydroxycut.
Many users on Reddit have claimed to combine Hydroxycut with an increase in coffee consumption and saw excellent results in their weight loss. Although this sounds like a good idea, it is easy to over-consume caffeine if you take the 4 pills of Hydroxycut plus drink caffeinated beverages throughout the day. Because of this, the manufacturers of Hydroxycut do not recommend getting any other sources of caffeine while taking the pill.
Conclusion
Hydroxycut is a popular weight-loss supplement with many positive reviews out there.
Although it had some safety concerns back in the 2000s, the newer formulations have been deemed safe and the ingredient list is quite similar to other supplements, with the addition of the two key ingredients in Hydroxycut that are claimed to cause the majority of rapid weight loss observed by users: Robusta coffee extract and caffeine.
If you choose to take Hydroxycut, we recommend continuing to try to improve your lifestyle routine (yes, this includes diet and exercise!) and be careful of caffeine overdose.
Past Reviews
Below are older reviews for Hydroxycut.
---