Yoga for Regular Guys Workout
or
YRG
) is a program created by Diamond Dallas Page a.k.a. DDP, a former WWE professional wrestler. It is a hybrid workout that claims to combine yoga, traditional fitness, sports therapy, old school calisthenics, and dynamic resistance, providing strength-training, flexibility, and cardio with low joint impact.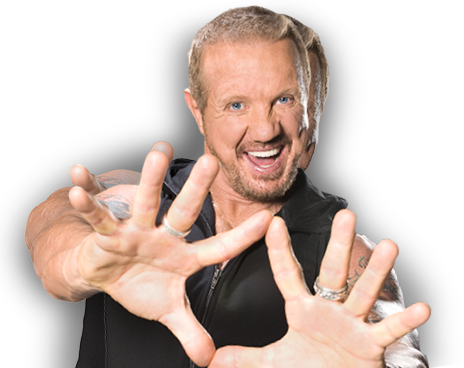 Although DDP originally created this program for athletes who, like himself, suffered injuries due to high impact sports, he later realized that he can recommend these routines to all men and women who want to lose weight and gain muscle tone. DDP aims to draw in men and women with its high intensity and volume, so if you're looking for a slow, spiritual meditation session, look elsewhere.
UPDATE: Due to some emails and negative reviews from customers in the recent months, we encourage women who are aiming to lose weight to try Yoga Burn instead (yogaburnchallenge.com). Before buying, read our full review of the Yoga Burn program. DDP Yoga is still recommended for men who are looking for low-impact exercise only.

Who is DDP?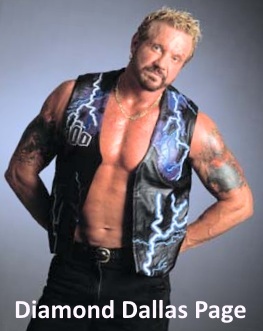 Diamond Dallas Page is an American semi-retired professional wrestler. After suffering from ruptures to his L4/L5 spinal discs in 1998, he was told by doctors that he would never wrestle again. Through attempts to recover, he discovered the health benefits of yoga through his former wife, Kimberly. He used his experience in many areas of fitness to develop exercise routines which combine elements of yoga with traditional workout principles. His routines helped him get back to the ring and win 3 WCW World Heavyweight Championships.
Furthermore, DDP decided to recommend his routines to anyone looking for low-impact exercise. For the past decade, DDP has refined his program and has motivated others to get healthy.
Program Benefits
The key benefits of DDP yoga for non-athletes are:
Weight loss. Although the program was not designed for this program, it's easy to see how a combination of yoga, strength-training, and cardio will inevitably help you burn calories and lose weight.
Flexibility. DDP has created some signature moves that you may have heard of. "Diamond Cutter" focuses on the spine and improves posture. Moves like "Can Opener" and "Figure 4" help open up the hips. At the end of each workout, instead of feeling exhausted and sluggish, you will feel energized and mobile.
Increased strength. DDP Yoga does not forego strength training. In fact, DDP puts a creative spin on traditional exercises like push-ups to help maximize the results of the workout.
Customer Reviews
Feel free to leave a review for DDP Yoga here. Please use proper grammar.
Click here to submit your review.
---
---
What a joke!
This is NOT going to help me lose weight and stay fit. It's just too easy. The only reason I gave 2 stars instead of 1 is because it's a pretty good routine if you're feeling very lazy and just want to stretch your muscles.

---
As easy as you make it
Mar 19, 2018
by
Michael Danski
I guess as someone who had never done any kind of Yoga prior to this, I found it challenging. If you do it while creating your own dynamic resistance (which you are supposed to do) it can be a hell of a workout. I played 10 years of football and went though all kinds of different lifting and conditioning programs and I still found this program to be tough and beneficial.

I'm not trying to be condescending here, but if the previous reviewers thought it was so easy it's likely they weren't engaging properly.

---
Worst "yoga" ever
I followed the program for 3 months and didn't see results. I then gave Yoga Burn a try, and in the first month alone got more results than I did in 5 months of doing DDP Yoga.
Also, it really annoys me how DDP tries to make the exercises more interesting by making them sound cool. Well, it doesn't work. In fact, it's lame!

---
Perfect Fit
I do not enjoy workouts that are overly cardio and high impact... This is perfect. For those who say it's too easy have clearly not done the Black Diamond, Double Black Diamond, or Extreme Psycho.

---
Returning
Jan 18, 2018
by
Charlotte
I am really disappointed. It's really hard to follow along with DDP. I don't think I am doing everything right because I don't feel like all my muscles are engaged...which is what he says it should feel like. Anyway, I'm going back to my old yoga routine.

---
DDP Yoga – Reviews
rated

3.8

/5 based on

27

reviews.
Why DDP Yoga is Unique
Low-impact. This may be the most important benefit of all. The program creates a high-intensity workout with low impact on the joints. Many people want to stay fit and healthy but cannot bear jumping, running, etc. Many others simply do not want to cause injury or bring themselves to the point where they feel like they will collapse. DDP Yoga does not cause too much strain. Alternatively, if you are looking for more intense exercise and don't mind high-impact, look into the Insanity Workout. To read a comparison review between DDP Yoga and the Insanity workout, click here.
Anyone can do it. DDP Yoga can be modified to be easier for beginners and injured individuals or more challenging for the ultimate athletes. Currently, it is being used by professional athletes and everyday people like us.
Sample Poses
Ignition into Touchdown with Diamond Cutter
This is a combination move which incorporates the signature DDP pose – the "Diamond Cutter."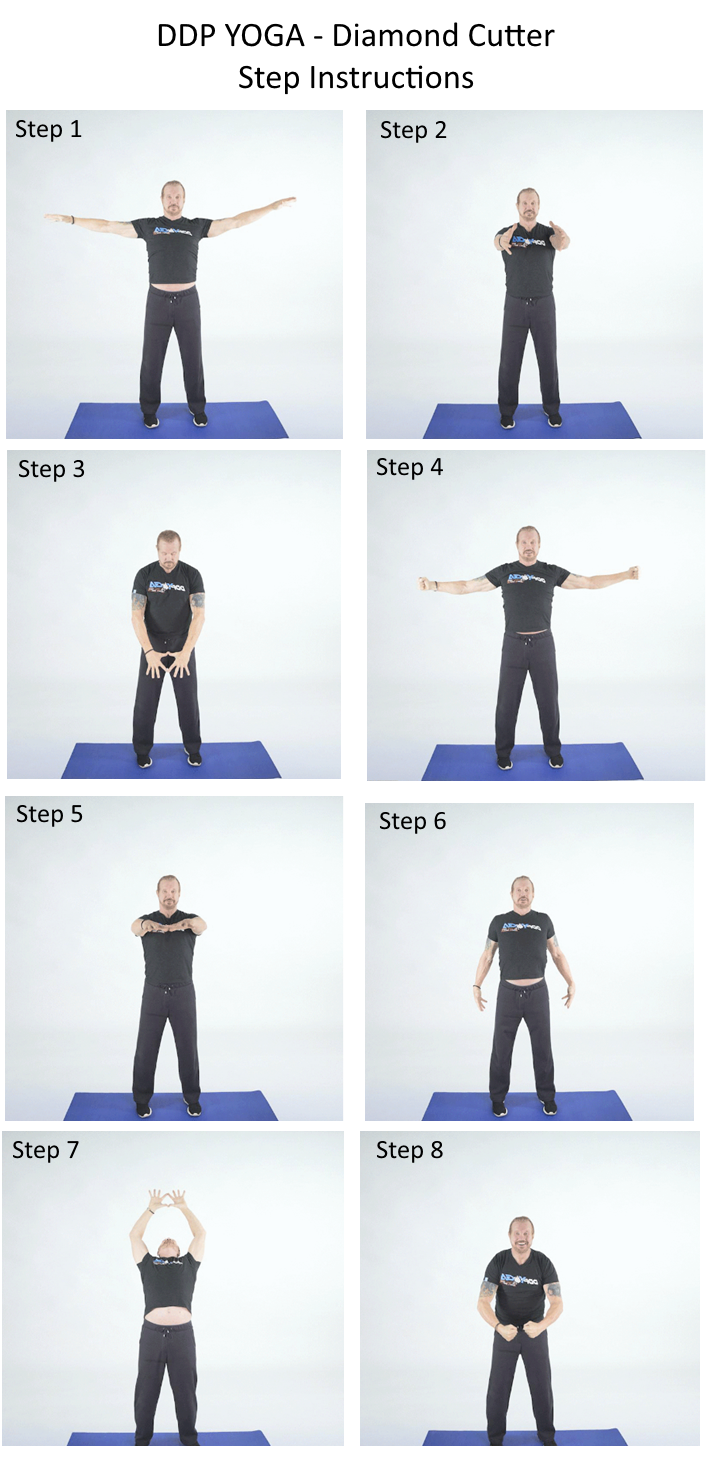 Here is a preview of one of the workouts in the program:
What's Included
Program/Nutrition Guide
Poster of Yoga Postures
2 packs of DVDs:

Pack 1: 6 beginner to advanced workouts
Pack 2: 5 intermediate to advanced workouts

mp3 versions of all workouts
More Reviews
Here are additional customer reviews.
Get out of it what you put in
So for those who felt the workout wasn't tough enough, here's some questions for you:

1) did you use the heart rate monitor during the workout? If your heart rate isn't rising, you're probably not engaged enough durning the workout. You'll get out of the DDP Yoga workout what you put into it.

2) How much did you engage? When DDP or the other instructors durning the live workouts say "flex your quads... open your fingers wide..." did you do a half hearted effort?

3) when you found that the workout wasn't tough enough, did you try adding something of your own? More pushups? Longer duration for each pose?

I've been doing DDP Yoga for two years now, and I can say i'm Stronger and more flexible that I was doing hot room power yoga. I've also leaned out significantly.

It's not the best workout for everyone, but which one is? DDP Yoga works if you're "owning it".

---
I love to see those negative reviews
Oct 20, 2017
by
Jack Hanley
I don't agree with them by any means but it shows a refreshing honesty.
I am driven to write this review because I admire what has been done with this course. I started practising kundalini yoga 18 months ago and exercised once a day for about 40 minutes (including meditation time) a day. The benefits were immense but I am always looking for new things. I was very doubtful about DDP but decided to give it a try.
After six months I have decided it suits my lifestyle better and has improved on effects of kundalini. For those who say it is too easy I would suggest they put more effort into it. It is very adaptable to different levels of ability.

---
Phenomenal workout plan
I love this plan. The workouts are high energy, low impact and varying levels of difficulty. The harder routines are hugely challenging

I've been doing it for about a year now and can definitely see and feel the results. The dynamic Resistance way of training can bump your heart rate up so quickly. Anyone who says it doesn't work isn't doing it right!

---
Great to do as a couple
My wife and I have been doing this program together for the last two months. It is a great workout to do especially as a couple that motivates each other to exercise even when feeling tired or likely to skip a session. After only 7 weeks of a 39 week course we are stronger, happier, fitter, and healthier than ever before. Note: we did not introduce any other big lifestyle changes.

---
Therapeutic Yoga
I love DDP yoga. I like that Dallas is very energetic and sometimes shouts. Some yoga instructors just make me want to sleep, but not Dallas. Mostly I use the exercises for therapy for my back, neck, and shoulder pain. These DVDs help me more than the physiotherapy my doctor sent me to. It also helps align the spine.

---
Kind of easy but ok
I should have seen this coming based on the reviews, but I found this too easy. I will look into something with higher intensity, like Insanity or p90x. But, if you want low to moderate intensity workouts this will suit you.

---
It's what I was looking for!
I don't like high-impact exercise that involves running and jumping. I was looking for a workout I could do from home that would make me sweat without making me feel like I was going to die. This is it! I can definitely see myself doing this for the rest of my life without feeling exhausted, but at the same time I feel challenged enough.

---